09 chart of 84 proposed geographies
Comparing Book of Mormon Geography
BOOK OF MORMON GEOGRAPHY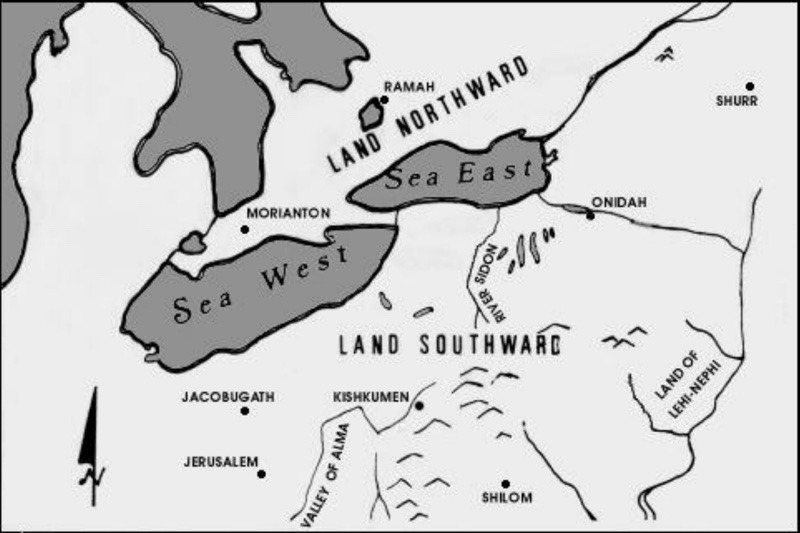 ---
CES Letter, Page 13
This map is labeled "Book of Mormon Geography" with names applied to the Great Lakes region. This is purely a theory. Theories regarding the geographic locations for the Book of Mormon peoples have been promoted since the book's publication in 1830.
At least 80 different proposals have been described.
New theories continue to be developed.
The Church of Jesus Christ of Latter-day Saints has no official position on the geographic locations of the Book of Mormon civilizations.
Available theories can be divided into two general categories:
Limited geography theory (LGT)
Hemispheric geography theory (HGT)
Other variations involve the locations of:
The narrow neck of land
The "land north"
The "land south"
The Hill Cumorah
The River Sidon
Nephi's original landing
Date Theory 

Proposed

Scope

Narrow

Neck

Land

North

Land

South

Cumorah

River

Sidon

Nephi's Landing

Source

n.d.

N/A

N/A

N/A

N/A

N/A

N/A

Lauritzen n.d.

n.d

N/A

N/A

N/A

N/A

N/A

N/A

Tyler n.d.

1830

HGT

Panama

Panama to NY

South America

New York

Magdalena?

Chile

General 1830s

1842

HGT?

Unclear

Tehuantepec-NY?

Unclear

New York

Unclear

Colombia

Times and Seasons

1842

1866

HGT

Panama

Panama to NY

South America

New York

Magdalena

Chile

Pratt 1866

1880

HGT

Panama

Panama to NY

South America

New York

Magdalena

Chile

Com.-Maes 1880

1880

HGT

Panama

Panama to NY

South America

New York

Magdalena

Chile

Reynolds 1880

1887

HGT

Panama

Guatemala

South America

New York?

Magdalena

Chile?

Plain Facts 1887

1888

HGT

Panama

Panama to NY

South America

New York

Magdalena

Chile

Roberts 1888

1900

HGT

Panama

Panama to NY

South America

New York

Magdalena

Chile

RLDS/Wes 1900?

1904

HGT

Panama

Panama to NY

South America

Unclear

Magdalena

Chile

Ricks 1904

1917

LGT

Tehuantepec

South-Central Mexico

Southern Mesoamerica, incl Yucatan

Central Mexico

Usumacinta

Central America

Hills 1917

1920

LGT

Other

Guatemala

Honduras-El Salvador

Guatemala

Ulna

Central America

Young pre-1920?

1922

LGT

Panama

Panama toNY

South America

Central Mexico

Magdalena

Chile?

Gunsolley 1922

1925

HGT

Honduras Bay

Panama to NY

Southern Guatemala

Guatemala

Ulna

Central America

Driggs 1925

1927

HGT

Belize-Yucatan base

South-Central Mexico

Unclear

New York

Unclear

Unclear

Bagley 1927

1927

HGT

Tehuantepec

Tehuantepec-NY

Unclear

New York

Unclear

Chile

Sjodhal 1927

1939

N/A

N/A

N/A

N/A

N/A

N/A

Washburn/Washburn 1939

1940

HGT

Tehuantepec

Tehuantepec-NY

Southern Mesoamerica, incl Yucatan

New York

Usumacinta

Unclear

Laytons 1940?

1940

LGT

Tehuantepec

South-Central Mexico

Southern Mesoamerica, incl Yucatan

Central Mexico

Usumacinta

Central America

Jakeman 1940s

1947

N/A

N/A

N/A

N/A

N/A

N/A

Ferguson 1947

1947

HGT

Panama

Panama to NY

South America?

New York

Unclear

Chile?

Wilde 1947

1948

LGT

Other

Ecuador-Colombia

Peru and south

In South America

In Peru

Chile

Birrell 1948

1948

LGT

Tehuantepec

South-Central Mexico

Southern Mesoamerica, incl Yucatan

Southern Veracruz

Usumacinta

Central America

Simmons 1948

1950

LGT

Tehuantepec

South-Central Mexico

Southern Mesoamerica, incl Yucatan

Southern Veracruz

Usumacinta?

Central America

Ferguson-Hunter 1950

1950

LGT

Other

Unclear

Other

Unclear

Other

Central America

Stout 1950

1951

LGT

Tehuantepec

South-Central Mexico

Southern Mesoamerica, incl Yucatan

Southern Veracruz?

Unclear

Central America?

Hanson 1951

1954

LGT

Other

Yucatan Peninsula

Unclear

Guatemala

Ulna

Central America

Pierce 1954

1955

LGT

Tehuantepec

South-Central Mexico

Tehuantepec - El Salvador

Southern Veracruz

Grijalva

Central America

Sorenson 1955

1958

HGT

Panama

Panama to NY

South America

New York

Unclear

Central America

Dixon 1958

1959

LGT

Tehuantepec?

Unclear

Tehuantepec - El Salvador?

Central Mexico?

Usumacinta

Chile

Hammond 1959

1960

LGT

no  data

Elieson 1960

1960

LGT

Honduras Bay

Guatemala

Other

Guatemala

Unclear

Central America

Lowe 1960a

1960

LGT

Other

Unclear

Other

Southern Veracruz?

Usumacinta

Central America

Lowe 1960b

1960

LGT

Tehuantepec

South-Central Mexico

Southern Mesoamerica, incl Yucatan

Central Mexico

Usumacinta?

Central America?

Vincent 1960?

1960

LGT

Tehuantepec?

South-Central Mexico

Southern Mesoamerica, incl Yucatan

Central Mexico

Usumacinta

Central America

Warren 1960

1961

LGT

Unclear

South-Central Mexico

Southern Mesoamerica, incl Yucatan

Southern Veracruz

Usumacinta

Central America

Warren 1961

1964

N/A

N/A

N/A

N/A

N/A

N/A

Ludlow n.d.

1966

LGT

Tehuantepec?

South-Central Mexico

Southern Mesoamerica, incl Yucatan?

Unclear

Usumacinta

Central America

Norman 1966

1969

LGT

Belize-Yucatan base

Yucatan Peninsula

Unclear

Guatemala?

Ulna

Central America

Christensen 1969

1970

LGT

Other

Unclear

Other

Southern Veracruz?

Usumacinta

Central America?

Lowe 1970s

1975

LGT

Other

Ecuador-Colombia

Other

In South America

Unclear

Chile

Priddis 1975

1975

LGT

Tehuantepec

South-Central Mexico

Southern Mesoamerica, incl Yucatan

Southern Veracruz?

Usumacinta?

Central America

Steede 1975

1976

N/A

N/A

N/A

N/A

N/A

N/A

Ludlow 1976

1976

LGT

Tehuantepec

South-Central Mexico

Southern Mesoamerica, incl Yucatan

Southern Veracruz

Usumacinta

Unclear

Loving 1976

1977

HGT

Panama

Panama to NY

Other

New York

Maranon?

Chile

Le Poidevin 1977

1977

LGT

Tehuantepec

Yucatan Peninsula

Southern Mesoamerica, incl Yucatan

Central Mexico

Usumacinta

Unclear

DeLong 1977

1977

LGT

Belize-Yucatan base

Yucatan Peninsula

Southern Guatemala

Guatemala

Usumacinta

Unclear

Robison 1977

1980

LGT

Other

Unclear

Other

Unclear

Other

Central America

Ellsworth 1980

1980

LGT

Tehuantepec

South-Central Mexico

Southern Mesoamerica, incl Yucatan

Southern Veracruz

Ulna

Central America

Lesh 1980

1981

LGT

Tehuantepec

South-Central Mexico

Tehuantepec - El Salvador

Southern Veracruz

Grijalva

Central America

Palmer 1981

1983

LGT

Niagara peninsula

Lower Canada?

NY, Penn, Ohio

New York

Genesse

New England coast

Holley 1983

1985

LGT

no data

Covino 1985

1985

LGT

Tehuantepec

South-Central Mexico

Southern Mesoamerica, incl Yucatan

Southern Veracruz

Grijalva

Central America

Porritt 1985

1986

LGT

Other

Ecuador-Colombia

Peru and south

In South America

In Peru

Chile

Kocherhans 1986

1987

N/A

N/A

N/A

N/A

N/A

N/A

Nielson 1987

1987

LGT

Unclear

Unclear

Southern Mesoamerica, incl Yucatan

Unclear

Grijalva

Unclear

Sahlin 1987

1987

LGT

Tehuantepec

South-Central Mexico

Tehuantepec - El Salvador

Southern Veracruz

Grijalva

Central America

Warren 1987

1988

N/A

N/A

N/A

N/A

N/A

N/A

Proctor 1988

1988

HGT

Panama

Panama to NY

South America

Central Mexico

Unclear

Chile?

Hobby-Smith 1988

1988

LGT

Niagara Peninsula

Unclear

Other

New York

Unclear

Unclear

Curtis 1988

1988

LGT

Other

Unclear

Southern Guatemala

Southern Veracruz

Other

Central America

Hauck 1988

1988

LGT

Belize-Yucatan base

Yucatan Peninsula

Southern Guatemala

Unclear

Other

Central America

Qulter 1988

1989

N/A

N/A

N/A

N/A

N/A

N/A

Clark 1989

1989

LGT

Tehuantepec

South-Central Mexico

Southern Mesoamerica, incl Yucatan

Southern Veracruz

Grijalva

Central America

Allen 1989

2001

LGT

Olive 2001

2002

HGT

Wunderli 2002

2002

LGT

Niagara Peninsula
New York/Upper Canada

Eastern US/Midwest

New York

Mississippi

Gulf of Mexico

Goble-May 2002

2002

LGT

Bridge over Samalá River (Mukulic-ya) at Santa Crúz Muluá, Guatemala

Mam Culture, Western Pacific Piedmont of Guatemala

Cotzumalhuapa Culture, Southern Pacific Piedmont of Guatemala.

Cumarkah (Utatlán) Santa Crúz del Quiché, Guatemala.

There are two -- Pantaleon (Alma 2:15) and Michatoya (Alma 16:6), Guatemala

Acajutla, El Salvador

Pate 2002

2003?

LGT

Niagara Peninsula
Upper Canada

Mississippi river system to Gulf of Mexico

New York

Mississippi

Gulf of Mexico

Meldrum 2003

2004

LGT

Tehuantepec

South-Central Mexico

Southern Mesoamerica, incl Yucatan

Tepetzintla (further North than Veracruz)

Grijalva

Central America

Poulsen 2004

2004

LGT

Very narrow area north of Buffalo, NY

Lake Tonawanda to Lake Ontario

Lake Tonawanda to Erie, PA

Jaredite final battle at Rochester, NY; Nephite at NY site of plates
Two: Buffalo River and Cazenovia Creek
Presque Isle Bay in Erie, PA
TRUE-BOMG

2004

LGT/HGT

Tehuantepec

From Tehuantepec Northward

Mesoamerica/Preclassic Maya

New York

Undetermined

Undetermined

Goble 2004

2008

LGT

no data

Brandley 2008

2009

LGT

Baja California

Northern half of Baja

Southern half of Baja

Near El Marmol

Rio San Ignacio

Southern tip of Baja

Rosenvall and Rosenvall 2009
---