No Document of Actual Signatures
Original Witness Signatures
CES Letter Core Question
Did the witnesses sign the original statement found at the beginning of the Book of Mormon?
No Document of Actual Signatures
The closest thing we have in existence to an original document of the testimonies of the witnesses is a printer's manuscript written by Oliver Cowdery (you can see black/white photo on Joseph Smith Papers here). Every witness name except Oliver Cowdery on that document is not signed; they are written in Oliver's own handwriting. Further, there is no testimony from any of the witnesses, with the exception of David Whitmer, directly attesting to the direct wording and claims of the manuscript or statements in the Book of Mormon.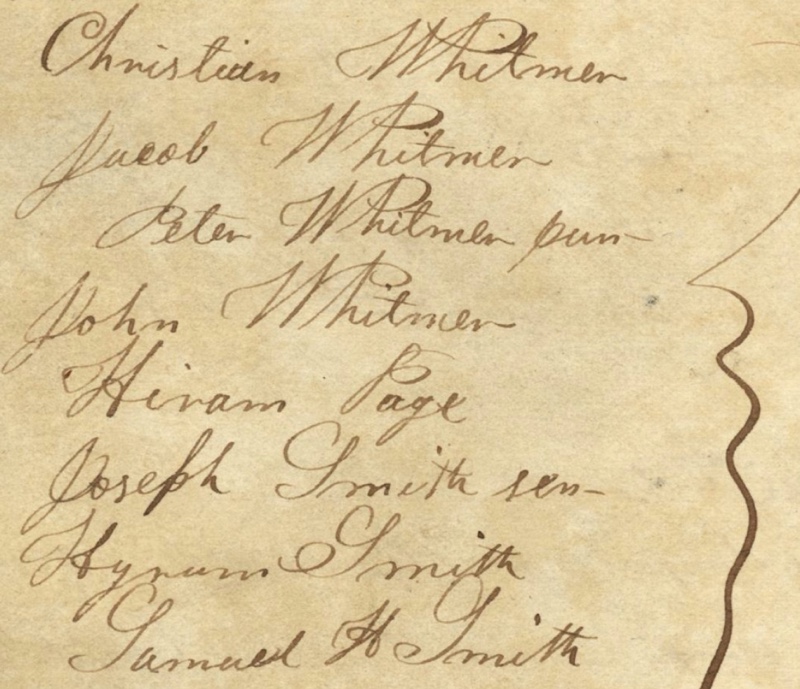 Closest Original to Testimony of Witnesses
---
CES Letter, Page 99
The original document of the Testimony of the Eight Witnesses was destroyed with a majority of the pages of the original manuscript of the Book of Mormon as they lay in the cornerstone of the Nauvoo House for many years, exposed to water and mold.
This complaint reflects a poor understanding of the history of the document and is a non-issue.
It is important that none of the Eight Witnesses ever denied it and multiple manuscripts demonstrate that they continued to affirm they had seen the plates.
Available documents support that the witnesses felt an obligation to continue to bear that testimony independent of their relationship with Joseph Smith or The Church of Jesus Christ of Latter-day Saints.
"Father David Whitmer was asked if the three witnesses signed their own names to their testimony to the Book of Mormon? Father Whitmer unhesitatingly replied with emphasis: 'Yes, we each signed his own name.'"[1]
The portion of the original manuscript containing the signatures has been destroyed (only about 25% of the original manuscript remains). The printer's copy, made by Oliver Cowdery and a few other scribes, is still intact, though of these signatures:
 "The witnesses did Dav not sign the original [printer's] manuscript though [they] were present and ordered Oliver Cowdry to sign for them."[2] Click here
In light of the numerous documented testimonies from the both the Three and the Eight Witnesses, this criticism is shallow and irrelevant. Click here
---
---
[1] "The Original Manuscript of the Book of Mormon," Improvement Era 3/1 (Nov. 1899): 61–65.
[2] James Henry Moyle, diary, 28 June 1885; in Vogel, Early Mormon Documents (Salt Lake City, Signature Books, 1996–2003), 5 vols, 5:141.